Professionalism
We are a company that offers professional services in different areas, specializing in Customer Service and IT Solutions.
Custom Processes

Each company inhabits a different universe, so the Contact Center proposal is one hundred percent oriented towards the needs and internal operations of the client.
Optimization
Through permanent audits, critical points are analyzed, improvements are implemented and weekly, monthly and quarterly reports are generated.
Company specialized in providing quality services
LinkSolution S.R.L. is a company specialized in providing quality services that support the operational and commercial activity of its customers. Specialized in Customer Service and IT Solutions, the company also provides Consulting services, Special Developments, also counts on independent business units that give value to the offered services.
Providing a service of excellence based on the standardization of processes and quality of our human resources, is our fundamental stone and differential factor.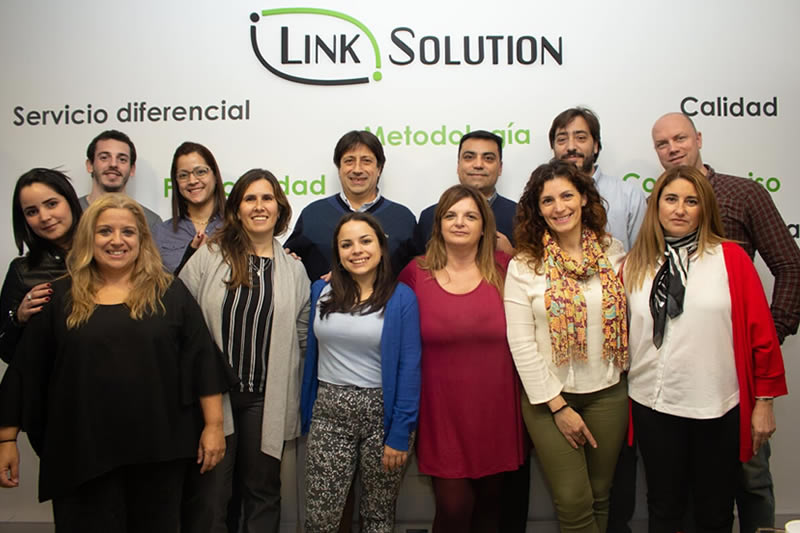 Our goal
Provide Differential Service in the outsourcing market on Technology, Telemarketing, CRM, ERP, Turnkey Project Management, Consulting, ITIL, applying modern and innovative management tools. Partner with our client and work as a team, to be able to advise on the lines of implementation and project management, in order to reduce costs and meet goals in time and form. That our client delegate in us all those projects that are not the «core» of «his» business, allowing us to apply the maximum of his potential over his objectives.
Business Focus
LinkSolution focuses on generating customer value from managing complex interactions. LinkSolution's customer relationship management capabilities extend from the front to the back office Home
Quality Commitment
All the processes of the Customer Service services offered, are implemented with strict rigor on the ISO 9001 standards.
Formed by highly trained professionals, linkSolution implemented the services offered observing the situation and global problem of the client, considering all the affected areas, systems and procedures. With this, it is possible to objectively dimension the scope and magnitude of the service to be offered, always under the highest quality standards.
Partners
We are active partners of Vistage, where senior executives, and entrepreneurs meet with their peers to help each other and share the best experiences in order to collaborate among all members to find the best business solutions.
Much more than solutions
Our commitment is to offer an excellent quality service, providing differential products in the outsourcing market about Contact Center, Technology, Turnkey Project Management, CRM, Consulting, ITIL, applying modern and innovative management tools at all times.